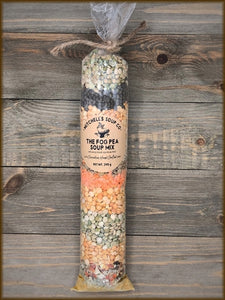 Buy 1 for $9.99 or Buy 3 for $28
Save $2 - Coupon Automatically Applied
As the saying goes, if the fog can be as thick as pea soup, then pea soup can be as thick as the fog. Hence our thick and flavorful "the fog" pea soup. We are told again and again that this is the best pea soup people have ever had. All you have to do is add bacon or ham.
390 GRAMS (SERVINGS 6-8 (2 CUP) / PORTIONS COPIEUSES 390 GRAMS


DIRECTIONS: 1) ADD PACKAGE CONTENTS TO 8 C BOILING WATER, SIMMER, COVERED ON LOW FOR APPROX 2 HRS. 2) DICE AND COOK HAM OR BACON (REMOVE ALL EXCESS GREASE TO AVOID MAKING SOUP TOO SALTY); ADD MEAT 15 MINS BEFORE SERVING. SOUP THICKENS AS IT COOKS. SEASON WITH SALT AND PEPPER. NOTE: TO MAKE 3-4 SERVINGS, MIX PACKAGE IN ZIP LOCK AND USE HALF; USE HALF OF THE REMAINING INGREDIENTS. PLEASE NOTE THAT SOME INGREDIENTS MAY BE FIELD HARVESTED. FOR BEST RESULTS INSPECT FOR ELEMENTS OF NATURE BEFORE COOKING.


INGREDIENTS: PEAS ( YELLOW, GREEN), LENTIL ( FRENCH, GREEN, RED), DRIED VEGETABLES ( CARROT, ONION, POTATO, LEEKS,PEPPERS, CELERY, CABBAGE, SULPHITE), SOUP BASE( SALT, CORN SYRUP SOLIDS, DEXTROSE, WHEAT FLOUR, SUGAR, CANOLA OIL, CORN STARCH, ONION POWDER, BEEF EXTRACT, GUAR GUM, SPICES, HERBS, DISODIUM GUANYLATE, DISODIUM INOSINATE, NATURAL FLAVORS, TURMERIC, CARAMEL), GARLIC, ONION, HERBS, SPICES, (MUSTARD) MAY CONTAIN: TREE NUTS, PEANUTS, SOY, EGG, MILK, SESAME, BARLEY



INSTRUCTIONS: 1) AJOUTER LE CONTENU DE L'EMBALLAGE À 8- 9 TASSES D'EAU BOUILLANTE; FAIR MIJOTER À COUVERT ET À FEU DOUX PENDANT ENVIRON 2 HEURES. 2) COUPER LE JAMBON OU LE BACON EN DÉS ET FAIRE CUIRE (RETIRER L'EXCÉS DE GRAS POUR ÉVITER QUE LA SOUPE SOIT TROP SALÉE); AJOUTER LA VIANDE 15 MINUTES AVANT DE SERVIR. LA SOUPE S'ÉPAISSIT AU FUR ET À MESURE QU'ELLE CUIT. ASSAISONNER AVEC SEL ET POIVRE. NOTE: POUR FAIRE 5-6 PORTIONS, MÉLANGER L'EMBALLAGE DANS UN ZIPLOCK ET EN UTILISER LA MOITIÉ; UTILISER LA MOITIÉ DES INGRÉDIENTS RESTANTS.


INGRÉDIENTS: POIS (JAUNES, VERTS), LENTILLES (FRANÇAISES, VERTES, ROUGES), LÉGUMES SÉCHÉS (CAROTTE, OIGNON, POMME DE TERRE, POIREAUX, POIVRONS, CÉLERI, CHOU, SULFITES), BASE DE SOUPE (SEL, EXTRAIT SEC DE SIROP DE MAÏS, DEXTROSE, FARINE DE BLÉ, SUCRE, HUILE DE CANOLA, AMIDON DE MAÏS, POUDRE D'OIGNON, EXTRAIT DE BŒUF, GOMME DE GUAR, ÉPICES, FINES HERBES, GUANYLATE DISODIQUE, INOSINATE DISODIQUE, ARÔMES NATURELS, CURCUMA, CARAMEL), AIL, OIGNON, FINES HERBES, ÉPICES (MOUTARDE). PEUT CONTENIR : NOIX, ARACHIDES, SOYA, ŒUF, LAIT, SÉSAME, ORGE


VEUILLEZ NOTER QUE CERTAINS INGRÉDIENTS PEUVENT AVOIR ÉTÉ RÉCOLTÉS AU CHAMP. POUR DE MEILLEURS RÉSULTATS, VÉRIFIEZ LA PRÉSENCE DE DÉBRIS NATURELS AVANT DE PRÉPARER LA SOUPE.