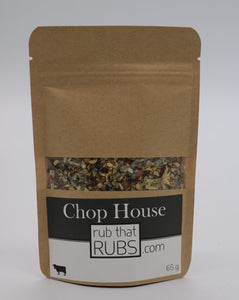 The right balance of Dead Sea Salt and pepper with herbs. This blend delivers the perfect balance required for the ultimate steak experience. A great rub for steak enthusiasts.
About Rub that RUBS
Gourmet Spices
My experience as a personal Chef I noticed there was a common issue among my clients. Bringing diversity of flavor into their meal plans that did not contain artificial flavors or fillers.
Each family was different and had a wide range of needs regarding the foods they ate. Everything from health issues, to not having the time to cook healthy meals for their family after a long work day.
In a discussion one day I came up with an idea to start a small business that provides my spice blends to the public. The idea quickly became a reality and rub that RUBS was born.
In a short time we gained popularity with Nova Scotian's looking for spice blends that did not contain unnecessary ingredients. Our carefully blended in small batch gourmet spices create dishes that celebrate global flavours with ease.
A little goes a long way. By using only the best ingredients you do not have to use a lot of seasoning to get the entire flavor you would expect from your meal.
We make it easy to be a gourmet chef.
Blended locally
No added MSG
Dairy Free
Gluten Free
Nut Free
Soy Free
No Fillers
No artificial flavors
Authentic seasonings with ingredients sourced from specific regions around the world
Rub that RUBS believes that convenience should not be bad for you. We do our best to make seasoning food and meal preparation easy.