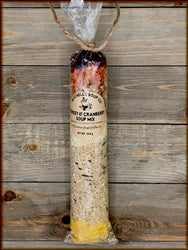 Buy 1 for $9.99 or Buy 3 for $28
Save $2 - Coupon Automatically Applied
Vegan/Vegetarian Friendly - recipe may require some substitutions. Please note: all Mitchells products are stored and processed in a facility that have ingredients containing animal bi-products.

This seasonal favorite is all about familiar holiday flavours and the welcoming aroma of a home cooked meal. This soup is so easy to make and is even a great way to use up some of those turkey leftovers during the holidays.
354 GRAMS (SERVINGS 8-10 (2 CUP) / PORTIONS COPIEUSES 354 GRAMS
DIRECTIONS: 1) IN LARGE POT COMBINE 2 TBSP OIL, 1 LARGE CHOPPED ONION, 1-2 LB GROUND OR CUBED TURKEY. SAUTE FOR 5 MINS. 2) ADD 1 C CHOPPED CELERY, 1 C CHOPPED CARROT. COOK UNTIL MEAT IS BROWNED. 3) ADD 10 C WATER AND PACKAGE CONTENTS. BRING TO A BOIL AND SIMMER COVERED FOR 1 HR, ADDING WATER IF NEEDED. OPTION: PEELED AND CUBED SWEET POTATO, AND/OR HALVED BRUSSELS SPROUTS. NOTE: IF USING COOKED LEFTOVER TURKEY, FOLLOW THE SAME INSTRUCTIONS WITHOUT BROWNING THE MEAT AT THE BEGINNING. JUST ADD COOKED MEAT WHEN YOU ADD THE WATER AND PACKAGE CONTENTS. PLEASE NOTE SOME INGREDIENTS MAY BE FIELD HARVESTED. FOR BEST RESULTS INSPECT FOR ELEMENTS OF NATURE BEFORE COOKING.
INGREDIENTS: RICE ( BROWN WILD), DRIED VEGETABLES ( CARROT, ONION, POTATO, LEEKS, PEPPERS, CELERY, CABBAGE, SULPHITE), SOUP BASE (CORN SYRUP SOLIDS, SALT, SUGAR, WHEAT FLOUR, DEXTROSE, CORN STARCH, CANOLA OIL, GUAR GUM, NATURAL FLAVOR, TURMERIC, HERBS, SPICES), DRIED CRANBERRY(CRANBERRY, SUGAR, SUNFLOWER OIL),QUINOA, DRIED CARROT, GARLIC, ONION, HERBS, SPICES. MAY CONTAIN: TREE NUTS, PEANUTS, SOY, EGG, MILK, SESAME, MUSTARD, BARLEY

INSTRUCTIONS: 1) DANS UNE GRANDE MARMITE, COMBINER 2 C. À S. D'HUILE, 1 GROS OIGNON HACHÈ, 1 À 2 LB DE DINDE HACHÈS OU EN CUBES. FAIRE SAUTER PENDANT 5 MINUTES. 2) AJOUTER 1 TASSE DE CÈLERIS HACHÈS, 1 TASSE DE CAROTTES HACHÈES. FAIRE CUIRE JUSQU'À CE QUE LA VIANDE SOIT BRUNIE. 3) AJOUTER 10 TASSES D'EAU ET LE CONTENU DE L'EMBALLAGE. PORTER À ÈBULLITION ET LAISSER MIJOTER À COUVERT PENDANT 1 HEURE EN AJOUTANT DE L'EAU AU BESOIN. OPTION: PATATES DOUCES PELÈES ET COUPÈES EN DÈS ET/OU CHOUX DE BRUXELLES COUPÈS EN DEUX. NOTE: SI VOUS UTILISEZ DES RESTES DE DINDE CUITE, SUIVRE LES MÈMES INSTRUCTIONS SANS FAIRE BRUNIR LA VIANDE AU DÈBUT. AJOUTER SEULEMENT LA VIANDE CUITE AU MOMENT D'JOUTER L'EAU ET LE CONTENU DE L'EMBALLAGE.

INGRÉDIENTS: RIZ (BRUN, SAUVAGE), LÉGUMES SÉCHÉS (CAROTTE, OIGNON, POMME DE TERRE, POIREAUX, POIVRONS, CÉLERI, CHOU, SULFITES), BASE DE SOUPE (EXTRAIT SEC DE SIROP DE MAÏS, SEL, SUCRE, FARINE DE BLÉ, DEXTROSE, AMIDON DE MAÏS, HUILE DE CANOLA, GOMME DE GUAR, ARÔME NATUREL, CURCUMA, FINES HERBES, ÉPICES), CANNEBERGES SÉCHÉES (CANNEBERGES, SUCRE, HUILE DE TOURNESOL), QUINOA, CAROTTE SÉCHÉE, AIL, OIGNON, FINES HERBES, ÉPICE. PEUT CONTENIR : NOIX, ARACHIDES, SOYA, OEUF, LAIT, SÉSAME, MOUTARDE, ORGE