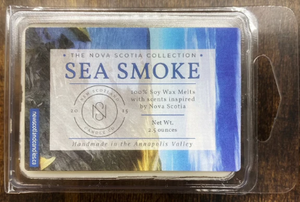 100% soy wax and phthalate free
High quality fragrance or essential oils.
Each package is very long lasting and will work in any burner.

Available in Wax Melt packs (2.5oz), 25hr Travel Tins (4oz), and our signature 35hr Mason Jars (7oz).

Sea smoke is a fog that is created when very cold air passes over warmer water.  This bestselling scent captures the brisk freshness of this experience with notes of anise, ivy, violet flowers, vanilla and musk.