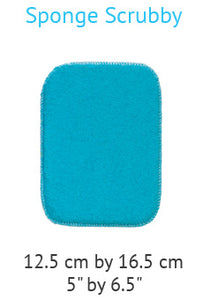 Rainbow Scrubby Sponge; We named our scrubby "The World's Best Potscrubber". Word of our fabulous product spread quickly and we were flattered by our many imitators. Although they copied our literature and called their product "original" or "best" and "finest", our scrubby will always be THE original and THE best.
We love our scrubbies and we make them from start to finish. We design them with our own patterns and labels and coordinate threads and colours to produce quality products that are visually appealing. Our family in Poland is still our exclusive manufacturer.
Although we originally named our scrubby "World's Best", our customers usually referred to them as "Rainbow Scrubbies" because of their bright, rainbow colours. In 2015 we decided to make the obvious change and renamed our product, "The Rainbow Scrubby".
Rainbow scrubbies are environmentally friendly and remove most stains and debris with just water.