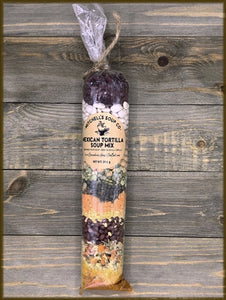 Buy 1 for $9.99 or Buy 3 for $28
Save $2 - Coupon Automatically Applied
One of the top sellers. People can't get enough of this soup. A thick Mexican style taco soup. Made with ground beef and tomatoes, garnished with sour cream and tortilla's. Kids love this soup - it's tasty but not too hot!!
396 GRAMS (SERVINGS 8-10 (2 CUP) / PORTIONS COPIEUSES 396 GRAMS
DIRECTIONS: 1) IN LARGE POT BROWN 1-2 LB HAMBURGER OR CHICKEN AND 1 CHOPPED ONION. ADD TACO SEASONING(OPTIONAL). 2) ADD 10 C WATER AND BEAN PORTION OF SOUP MIX (PINCH BAG BELOW CHICKPEAS AND EMPTY TOP PORTION OF BEANS). 3) BOIL THEN SIMMER COVERED FOR 1 HR. 4) ADD REMAINING PACKAGE CONTENTS AND 28OZ CAN DICED TOMATOES; COOK COVERED FOR 1-2 HRS. SEASON WITH SALT AND PEPPER. GARNISH WITH 1 TBSP SOUR CREAM, CRUSHED TORTILLA CHIPS, AND GRATED CHEESE. NOTE: FOR SOFTER BEANS AND FASTER COOK TIME SOAK BEANS 4-6 HRS BEFORE. PLEASE NOTE THAT SOME INGREDIENTS MAY BE FIELD HARVESTED. FOR BEST RESULTS INSPECT FOR ELEMENTS OF NATURE BEFORE COOKING.
INGREDIENTS: BEANS(GARBANZO, ADZUKI, PINTO, SMALL RED, MUNG, GREAT NORTHERN), SOUP BASE( SALT, CORN SYRUP SOLIDS, DEXTROSE, WHEAT FLOUR, SUGAR, CANOLA OIL, CORN STARCH, ONION POWDER, BEEF EXTRACT, GUAR GUM, SPICES, HERBS, DISODIUM GUANYLATE, DISODIUM INOSINATE, NATURAL FLAVORS, TURMERIC, CARAMEL), GREEN SPLIT PEA, DRIED VEGETABLES (CARROT, ONION, POTATO, LEEKS, PEPPERS, CELERY, CABBAGE, SULPHITE), RED LENTILS, FRENCH LENTILS, GARLIC, ONION, HERBS, SPICES,(MUSTARD) MAY CONTAIN: TREE NUTS, PEANUTS, SOY, EGG, MILK, SESAME, BARLEY
INTRUCTIONS: 1) DANS UNE GRANDE MARMITE, FAIRE BRUNIR 1 À 2 LB DE VIANDE HACHÈE OU DE POULET ET 1 OIGNON HACHÈ. AJOUTER DES ASSAISONNEMENTS POUR TACOS(OPTIONNEL). 2)AJOUTER 10 TASSES D'EAU ET LA PORTION DE FÈVES DU MÈLANGE POUR SOUPE (PINCER LE SAC SOUS LES POIS CHICHES ET VIDER LA PORTION DE FÈVES DU DESSUS). 3) FAIRE BOUILLIR PUIS FAIRE MIJOTER À COUVERT PENDANT 1 HEURE. 4) AJOUTER LE RESTANT DU CONTENU DE L'EMBALLAGE ET UNE BOÎTE DE TOMATES EN DÈS DE 28OZ; FAIRE CUIRE À COUVERT PENDANT 1 À 2 HEURES. ASSAISONNER AVEC SEL ET POIVRE. GARNIR DE 1 C. À S. CRÈME SURE, DE CROUSTILLES AU MAÏS ÉMIETTÉES ET DE FROMAGE. NOTE: POUR DES FÉVES PLUS TENDRES ET UN TEMPS DE CUISSON RÉDUIT, FAIRE TREMPER LES FÉVES PENDANT 4 À 6 HEURES.
INGRÉDIENTS: FÈVES ET HARICOTS (GARBANZO, ADZUKI, PINTO, PETITS ROUGES, MUNGO, GREAT NORTHERN), BASE DE SOUPE (SEL, EXTRAIT SEC DE SIROP DE MAÏS, DEXTROSE, FARINE DE BLÉ, SUCRE, HUILE DE CANOLA, AMIDON DE MAÏS, POUDRE D'OIGNON, EXTRAIT DE BŒUF, GOMME DE GUAR, ÉPICES, FINES HERBES, GUANYLATE DISODIQUE, INOSINATE DISODIQUE, ARÔMES NATURELS, CURCUMA, CARAMEL), POIS VERTS CASSÉS, LÉGUMES SÉCHÉS (CAROTTE, OIGNON, POMME DE TERRE, POIREAUX, POIVRONS, CÉLERI, CHOU, SULFITES), LENTILLES ROUGES, LENTILLES FRANÇAISES, AIL, OIGNON, FINES HERBES, ÉPICES (MOUTARDE). PEUT CONTENIR : NOIX, ARACHIDES, SOYA, ŒUF, LAIT, SÉSAME, ORGE
VEUILLEZ NOTER QUE CERTAINS INGRÈDIENTS PEUVENT AVOIR ÈTÈ RÈCOLTÈS AU CHAMP. POUR DE MEILLEURS RÈSULTATS, VÈRIFIEZ LA PRÈSENCE DE DÈBRIS NATURELS DE PRÈPARER LA SOUPE.