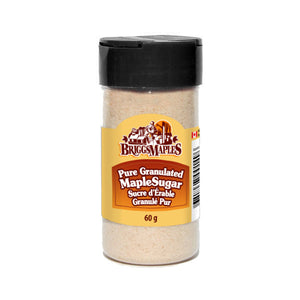 Pure Granulated Maple Sugar- shaker

Use in cooking many recipes or substitute for other sugars. Sprinkle on desserts, icings, ice cream or whip cream.

Ingredients: Pure granulated maple sugar.
Briggs Maples gets its pure maple syrup from David's father Lea.  Lea taps over 12,000 sugar maples on private and crown land, located near Fundy Park, in Albert County New Brunswick. For years Lea produced maple syrup in his home of Stilesville New Brunswick. Located just outside of Moncton, Stilesville is well known in the area for producing some of the best quality maple products in the world.