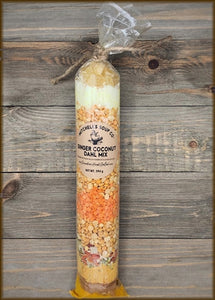 Buy 1 for $9.99 or Buy 3 for $28
Save $2 - Coupon Automatically Applied
Vegan/Vegetarian Friendly- recipe may require some substitutions.
Please note: all Mitchells products are stored and processed in a facility that have ingredients containing animal bi
products.

Our number 1 selling product. This dish is loved by all. A traditional Indian dish, cooked into a thick sauce and served over rice. Magnificent garnished with mango or banana. If you are having a dinner party and want to look like a star, this is the recipe.
394 GRAMS (SERVINGS 8-10(1 CUP) / PORTIONS COPIEUSES 394 GRAMS
DIRECTIONS:1) BRING 4 ¼ C WATER TO BOIL AND ADD PACKAGE CONTENTS; SIMMER, COVERED ON LOW FOR 1 ½- 2 HRS (UNTIL PEAS ARE DESIRED TEXTURE), STIRRING REGULARLY; ADD WATER AS NEEDED. 2) ADD 28OZ CAN DICED TOMATOES, 2 TSP LEMON JUICE, 4 TBSP BUTTER, 3 TSP OIL, AND SIMMER FOR 20-30 MIN. 3) SERVE OVER RICE. SEASON WITH SALT AND PEPPER. GARNISH WITH FRESH MANGO OR BANANA. OPTION: ADD COOKED DICED CHICKEN OR SHRIMP 10 MIN BEFORE SERVING. PLEASE NOTE THAT SOME INGREDIENTS MAY BE FIELD HARVESTED. FOR BEST RESULTS INSPECT FOR ELEMENTS OF NATURE BEFORE COOKING

INGREDIENTS: YELLOW PEAS, RED LENTILS, CANDIED GINGER ( GINGER, SUGAR, CITRIC ACID, SULPHITE), SOUP BASE (CORN SYRUP SOLIDS, SALT, SUGAR, WHEAT FLOUR, DEXTROSE, CORN STARCH, CANOLA OIL, GUAR GUM, NATURAL FLAVOR, TURMERIC, HERBS, SPICES), DRIED VEGETABLES (CARROT, ONION, POTATO, LEEKS, PEPPERS, CELERY, CABBAGE, SULPHITE), COCONUT (SULPHITE), GARLIC, ONION, HERBS, SPICES. MAY CONTAIN: TREE NUTS, PEANUTS, SOY, EGG, MILK, SESAME, MUSTARD, BARLEY


INSTRUCTIONS: PORTER 4 1/4 TASSES D'EAU À ÉBULLITION ET AJOUTER LE CONTENU DE L'EMBALLAGE; FAIRE MIJOTER À COUVERT ET À FEU DOUX PENDANT 1 1/2-2 HEURES
( JUSQU' À CE QUE LES POIS AIENT LA TEXTURE DÉSIRÉE), EN BRASSANT RÉGULIÉREMENT; AJOUTER DE L'EAU AU BESOIN. 2) AJOUTER UNE BOÎTE DE TOMATES EN DÉS DE 28 OZ, 2 C. À T. D'HUILE ET FAIRE MIJOTER PENDANT 20 À 30 MINUTES. 3) SERVIR SUR DU RIZ. ASSAISONNER AVEC SEL ET POIVRE. GARNIR DE MANGUE OU DE BANANE FRAÎCHE. OPTION: AJOUTER LE POULET EN DÉS CUIT OU LES CREVETTES 10 MINUTES AVANT DE SERVIR.

VEUILLEZ NOTER QUE CERTAIN INGRÉDIENTS PEUVENT AVOIR ÉTÉ CULTIVÉS DANS DES CHAMPS. POUR OBTENIR MEILLEURS RÉSULTATS, INSPECTER POUR ÉLIMINER D'ÉVENTUELS RESTANTS D'ÉLÉMENTS DE LA NATURE AVANT DE FAIRE CUIRE.
INGRÉDIENTS: POIS JAUNES, LENTILLES ROUGES, GINGEMBRE CONFIT (GINGEMBRE, SUCRE, ACIDE CITRIQUE, SULFITES), BASE DE SOUPE (EXTRAIT SEC DE SIROP DE MAÏS, SEL, SUCRE, FARINE DE BLÉ, DEXTROSE, AMIDON DE MAÏS, HUILE DE CANOLA, GOMME DE GUAR, ARÔME NATUREL, CURCUMA, FINES HERBES, ÉPICES), LÉGUMES DÉSHYDRATÉS (CAROTTE, OIGNON, POMME DE TERRE, POIREAUX, POIVRONS, CÉLERI, CHOU, SULFITES), NOIX DE COCO (SULFITES), AIL, OIGNON, FINES HERBES, ÉPICES. PEUT CONTENIR : NOIX, ARACHIDES, SOYA, OEUF, LAIT, SÉSAME, MOUTARDE, ORGE
VEUILLEZ NOTER QUE CERTAINS INGRÈDIENTS PEUVENT AVOIR ÈTÈ RÈCOLTÈS AU CHAMP. POUR DE MEILLEURS RÈSULTATS, VÈRIFIEZ LA PRÈSENCE DE DÈBRIS NATURELS AVANT DE PRÈPARER LA SOUPE