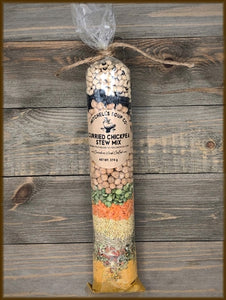 Buy 1 for $9.99 or Buy 3 for $28
Save $2 - Coupon Automatically Applied
Vegan/Vegetarian Friendly- recipe may require some substitutions.
Please note: all Mitchells products are stored and processed in a facility that have ingredients containing animal bi-products.

A thick and a nutritious Indian stew. A meatless recipe made with yams, tomatoes, and butter. Great served over rice. Madras curry gives this dish lots of flavor with out a lot of heat.
374 GRAMS (SERVINGS 8-10 (2 CUP) / PORTIONS COPIEUSES 374 GRAMS
DIRECTIONS: 1) IN LARGE POT, SAUTE 1 LARGE ONION IN 3 TBSP BUTTER; ADD 8 C WATER AND PACKAGE CONTENTS. 2) BOIL, THEN SIMMER, COVERED FOR 1- 1 ½ HRS OR UNTIL CHICKPEAS ARE GETTING SOFT, ADDING MORE WATER AS NEEDED. 3) ADD 28OZ CAN DICED TOMATOES, 4 TBSP BUTTER AND 4 DICED POTATOES OR PEELED YAMS. SIMMER UNTIL POTATOES ARE COOKED. SEASON WITH SALT AND PEPPER. (CAN BE SERVED OVER RICE). OPTION: ADD COOKED CHICKEN OR SHRIMP. NOTE: FOR SOFTER CHICKPEAS AND FASTER COOK TIME, SOAK CHICKPEAS FOR 4-6 HRS BEFORE COOKING. PLEASE NOTE THAT SOME INGREDIENTS MAY BE FIELD HARVESTED. FOR BEST RESULTS INSPECT FOR ELEMENTS OF NATURE BEFORE COOKING.
INGREDIENTS: BEANS (GARBANZO, BLACK, BLACK-EYE), SOUP BASE ( CORN SYRUP SOLIDS, SALT, SUGAR, WHEAT FLOUR, DEXTROSE, CORN STARCH, CANOLA OIL, GUAR GUM, NATURAL FLAVOR, TURMERIC, HERBS, SPICES), GREEN SPLIT PEA, MILLET OR QUINOA, BROWN RICE, DRIED VEGETABLES ( CARROT, ONION, POTATO, LEEKS, PEPPERS, CELERY, CABBAGE, SULPHITE), RED LENTILS, GARLIC, ONION, SALT, HERBS, SPICES. MAY CONTAIN: TREE NUTS, PEANUTS, SOY, EGG, MILK, SESAME, MUSTARD, BARLEY
INSTRUCTIONS: DANS UNE GRANDE MARMITE, FAIRE SAUTER 1 GROS OIGNON DANS 3 C. À S. DE BEURRE; AJOUTER 8 TASSES D'EAU ET LE CONTENU DE L'EMBALLAGE. 2)FAIRE BOUILLIR PUIS FAIRE MIJOTER À COUVERT PENDANT 1- 1 ½ HEURES OU JUSQU' À CE QUE LES POMMES DE TERRE SOIENT CUITES.ASSAISONNER AVEC SEL ET POIVRE (PEUT ÊTRE SERVI SUR DU RIZ). OPTION: AJOUTER DU POULET CUIT OU DES CREVETTES CUITES. NOTE: POUR OBTENIR DES POIS CHICHES PLUS TENDRES ET UN TEMPS DE CUISSON RÉDUIT, FAIRE TREMPER LES POIS CHICHES PENDANT 4 À 6 HEURES AVANT LA CUISSON.
INGRÉDIENTS: FÉVES, HARICOTS ET DOLIQUES (GARBANZO, NOIRS, À OEIL NOIR), BASE DE SOUPE (EXTRAIT SEC DE SIROP DE MAÏS, SEL, SUCRE, FARINE DE BLÉ, DEXTROSE, AMIDON DE MAÏS, HUILE DE CANOLA, GOMME DE GUAR, ARÔME NATUREL, CURCUMA, FINES HERBES, ÉPICES), POIS VERTS CASSÉS, MILLET OU QUINOA, RIZ BRUN, LÉGUMES DÉSHYDRATÉS (CAROTTE, OIGNON, POMME DE TERRE, POIREAUX, POIVRONS, CÉLERI, CHOU, SULFITES), LENTILLES ROUGES, AIL, OIGNON, SEL, FINES HERBES, ÉPICES. PEUT CONTENIR : NOIX, ARACHIDES, SOYA, OEUF, LAIT, SÉSAME, MOUTARDE, ORGE
VEUILLEZ NOTER QUE CERTAINS INGRÉDIENTS PEUVENT AVOIR ÉTÉ RÉCOLTÉS AU CHAMP. POUR DE MEILLEURS RÉSULTATS, VÉRIFIEZ LA PRÉSENCE DE DÉBRIS NATURELS AVANT DE PRÉPARER LA SOUPE.