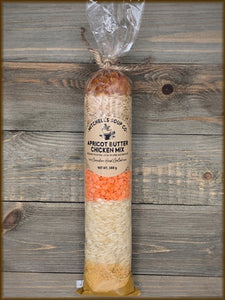 Buy 1 for $9.99 or Buy 3 for $28
Save $2 - Coupon Automatically Applied
Vegan/Vegetarian Friendly
- recipe may require some substitutions. Please note: all Mitchells products are stored and processed in a facility that have ingredients containing animal bi-products.
This dish is a huge hit!! Our easy to make rendition of the famous Indian dish "Butter Chicken".
380 GRAMS SERVINGS 7-9 ( 1 CUP) / PORTIONS COPIEUSES 380 GRAMS
DIRECTIONS:
STOVE TOP: 1) ADD PACKAGE CONTENTS TO 4 C OF WATER; BRING TO A BOIL, THEN COOK COVERED ON LOW FOR 35 MINUTES.2) AS THE RICE COOKS, BROWN 2 CUPS CUBED CHICKEN IN ½ C BUTTER, ADD 2-3 DICED TOMATOES( OR SMALL CAN DRAINED DICED TOMATOES) AND 1 CHOPPED LARGE ONION; COOK FOR APPROX 20 MINS, UNTIL CHICKEN IS COOKED. 3)ADD COOKED RICE TO PAN WITH COOKED CHICKEN AND STIR IN 1 C PLAIN YOGURT. GARNISH WITH MANGO OR PEACHES.
BAKE IN OVEN: 1) PLACE PACKAGE CONTENTS IN LARGE BUTTERED CASSEROLE DISH; ADD 4 ½ C WATER, ½ C BUTTER, 1-2 C CUBED RAW CHICKEN, 1 C FROZEN PEAS, 1 C DICED MANGO OR APPLE. 2)BAKE, COVERED FOR 1 HR AT 350°F. 3) ONCE COOKED STIR IN ¾ C PLAIN YOGURT OR SOUR CREAM. NOTE: ENSURE CHICKEN IS THOROUGHLY COOKED BEFORE SERVING. WARNING: PLEASE NOTE THAT SOME INGREDIENTS MAY BE FIELD HARVESTED, FOR BEST RESULTS INSPECT FOR ELEMENTS OF NATURE BEFORE COOKING.
INGREDIENTS: RICE ( BROWN, WHITE), RED LENTIL, SOUP BASE (CORN SYRUP SOLIDS, SALT, SUGAR, WHEAT FLOUR, DEXTROSE, CORN STARCH, CANOLA OIL, GUAR GUM, NATURAL FLAVOR, TURMERIC, HERBS, SPICES) DRIED APRICOT (SULPHITE), GARLIC, ONION, SALT, HERBS, SPICES. MAY CONTAIN: TREE NUTS, PEANUTS, SOY, EGG, MILK, SESAME, MUSTARD, BARLEY
INSTRUCTIONS:SURFACE DE CUISSON: 1)AJOUTER LE CONTENU DE L'EMBALLAGE À 4 TASSES D'EAU; PORTER À ÉBULLITION, PUIS CUIRE À COUVERT ET À FEU DOUX PENDANT 35 MINUTES. 2) PENDANT QUE LE RIZ CUIT, FAIRE BRUNIR 2 TASSES DE POULET EN DÉS DANS 1/2 TASSE DE BEURRE; AJOUTER 2 À 3 TOMATES EN DÉS ( OU UNE PETITE BOÎTE DE TOMATES EN DÉS ÉGOUTTÉE) ET 1 GROS OIGNON HACHÉ; FAIRE CUIRE PENDANT ENVIRON 20 MINUTES, JUSQU'À CE QUE LE POULET SOIT CUIT. 3) AJOUTER LE RIZ CUIT À LA POÊLE AU POULET CUIT ET AJOUTER 1 TASSE DE YOGOURT NATURE. GARNIR DE MANGUES OU DE PÊCHES