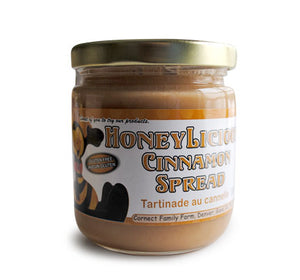 All of our HoneyLiscious!™ Flavored Creamed Spread products are gluten free and do not contain any artificial colors or flavors. No need to refrigerate but they may separate somewhat during extreme heat. Otherwise may be stored at room temperature.
HoneyLiscious!™ Cinnamon Spread
All the goodness of honey and cinnamon in a jar! Made with our own honey and pure cinnamon. Use as a spread, eat by the spoonful, or delicious when used as a dip for apples.
Producing artisan honey from the many wildflowers and blueberry blossoms in their surrounding area for over 19 years; Cornect Family Farm has grown their farm business from 2 beehives in 1994 to nearly 300 beehives providing pollination services for their own and other blueberry growers in the surrounding areas of Guysborough County, Nova Scotia.