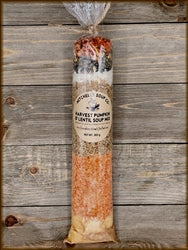 Buy 1 for $9.99 or Buy 3 for $28
Save $2 - Coupon Automatically Applied
Vegan/Vegetarian Friendly- recipe may require some substitutions. Please note: all Mitchells products are stored and processed in a facility that have ingredients containing animal bi-products.

This bisque style vegetarian pumpkin soup is perfectly flavoured with our warm and rich autumn inspired spice blend. For a sweet twist try adding mandarin oranges, peaches or diced apple. 
383 GRAMS (SERVINGS 7-8 (2 CUP) / PORTIONS COPIEUSES 383 GRAMS

DIRECTIONS: 1) IN LARGE POT, BROWN ONE ONION IN 4 TBSP OF BUTTER. 2) ADD 6 C WATER, PACKAGE CONTENTS, 28OZ CAN PUMPKIN, BOIL THEN SIMMER COVERED UNTIL COOKED (APPROX 45 MINS). 3) ADD 3 C CREAM OR MILK, 1 TBSP BROWN SUGAR, AND EITHER 398 ML CANNED PEACHES WITH JUICE OR 1 ½ C CHOPPED APPLE; SIMMER FOR 10 MINS. ADD EXTRA WATER AS NEEDED. SEASON WITH SALT AND PEPPER. OPTION: PUREE COOKED SOUP. PLEASE NOTE THAT SOME INGREDIENTS MAY BE FIELD HARVESTED. FOR BEST RESULTS INSPECT FOR ELEMENTS OF NATURE BEFORE COOKING.
INGREDIENTS: RED LENTIL, BULGAR, SOUP BASE ( CORN SYRUP SOLIDS, SALT, SUGAR, WHEAT FLOUR, DEXTROSE, CORN STARCH, CANOLA OIL, GUAR GUM, NATURAL FLAVOR, TURMERIC, HERBS, SPICES), WHITE RICE, FRENCH LENTIL, DRIED CARROT, GARLIC, ONION, HERBS, SPICES. MAY CONTAIN:TREE NUTS, PEANUTS, SOY, SULPHITE, EGG, MILK, SESAME, MUSTARD, BARLEY

INSTRUCTIONS: 1) DANS UNE GRANDE MARMITE, FAIRE BRUNIR UN OIGNON DANS 4 C. À S. DE BEURRE. 2) AJOUTER 6 TASSES D'EAU, LE CONTENU DE L'EMBALLAGE, UNE BOÎTE DE CITROUILLE DE 28 OZ; FAIRE BOUILLIR ET FAIRE MIJOTER À COUVERT JUSQU'À CE QUE CE SOIT CUIT (ENVIRON 45 MINUTES). 3) AJOUTER 3 TASSES DE CRÈME OU DE LAIT, 1 C. À S. DE CASSONADE ET 398 ML DE PÊCHES EN CONSERVE OU 1 ½ TASSE DE POMME HACHÈE; FAIRE MIJOTER PENDANT 10 MINUTES. AJOUTER PLUS D'EAU AU BESOIN. ASSAISONNER AVEC SEL ET POIVRE. OPTION: METTRE LA SOUPE CUITE EN PURÈE.
INGRÉDIENTS: LENTILLES ROUGES, BULGUR, BASE DE SOUPE (EXTRAIT SEC DE SIROP DE MAÏS, SEL, SUCRE, FARINE DE BLÉ, DEXTROSE, AMIDON DE MAÏS, HUILE DE CANOLA, GOMME DE GUAR, ARÔME NATUREL, CURCUMA, FINES HERBES, ÉPICES), RIZ BLANC, LENTILLES FRANÇAISES, CAROTTE SÉCHÉE, AIL, OIGNON, FINES HERBES, ÉPICES. PEUT CONTENIR : NOIX, ARACHIDES, SOYA, SULFITES, ŒUF, LAIT, SÉSAME, MOUTARDE, ORGE