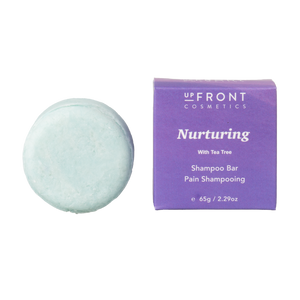 The Nurturing Shampoo Bar is the perfect bar for children. Gentle enough for babies, this combination of earthy, herbaceous essential oils is naturally hydrating and supremely soothing.  Active tea tree oil moisturizes and soothes the scalp and fights flakes. This parent-approved, sulphate-free shampoo bar creates an abundant lather that is pH-balanced to be mild, non-irritating and safe for all hair types.
(Previously Tea Tree Shampoo Bar)
Each 65g Shampoo Bar replaces up to 3 bottles of liquid shampoo.
Recommended for: Kids or sensitive hair/skin types.
Aroma: Earthy, spicy citrus scent