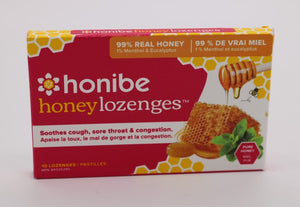 Honibe combines real honey with menthol & eucalyptus for fast and effective soothing relief of cough, sore throat and congestion.
100% Natural Ingredients
Only 3 Ingredients
No Added Sugar
Made in Canada
"honibe® was born out of a camping trip 'honey accident' in the mountains of British Columbia. I was hiking in bear country when I opened up my backpack to pull out a glass jar of honey I was carrying and found it had shattered, leaving a sticky mess! Why was I carrying a jar of honey in the first place? Good question! Honey is one of nature's best kept healing secrets AND an excellent source of energy. Not only did this experience give me a good scare, but it also served as a 'Eureka!' moment…there had to be an easier way to travel with honey. Ideally, in a format that was less likely to attract bears!"