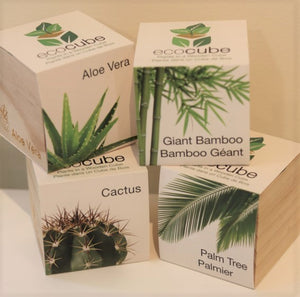 Ecocubes make beautiful natural and lasting gifts.
In decorative wooden cubes, seeds quickly turn into flowers and plants.
Each cube made of high quality alder wood, is filled with special growth pellets and seeds and is sealed with a sticker to protect it from germs.
To give life to your Ecocube, just remove the sticker from the cube, add a little water and place in a bright place. After a few days the ecocube comes to life and we see small green plants appearing from this organic culture. If taken care of, the sprouts will grow into larger plants that can then be repotted in a pot or outdoors while leaving them in the cube. As our ecocubes are made from 100% biodegradable organic materials, they will be composted slowly and provide important nutrients to the plant.